Display refrigerators: Epta's sustainable technology for AB Vasilopoulos in Athens ​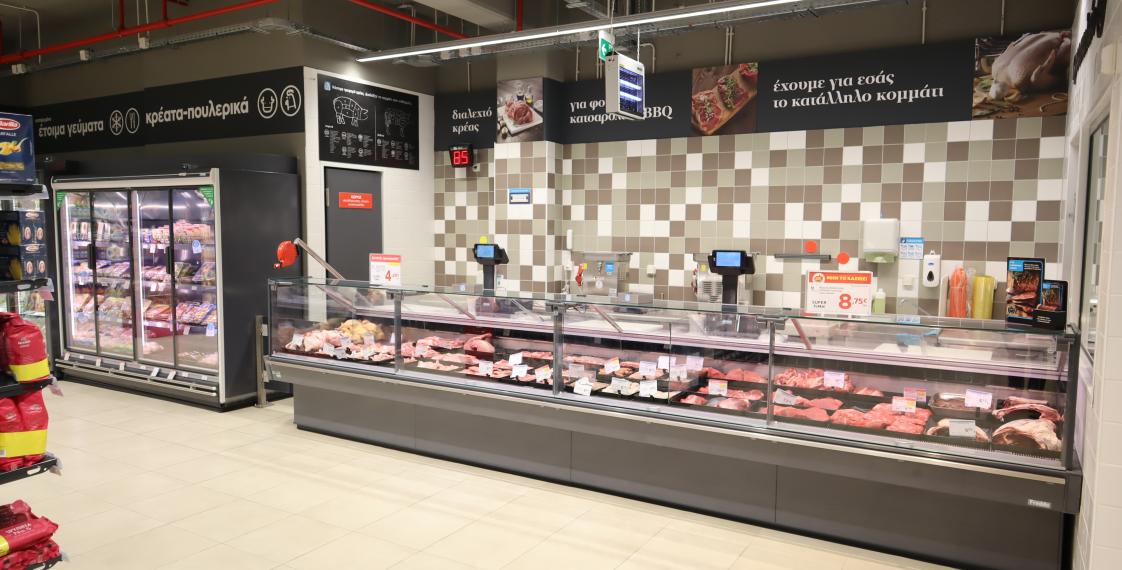 Did you know that the Hellenic Republic ranked seventh in 2021 for the amount of solar and wind energy generated in relation to total electricity production?
This is why, following the installation of the patented FTE Full Transcritical Efficiency system in 2019, AB Vasilopoulos S.A. once again chose, for its new store in Athens, Epta's value-added distributor, FREDDO S.A.
A partnership in the name of sustainability that has lasted over for 30 years and includes a wide range of solutions: from refrigerated cabinets to display refrigerators to refrigeration packs.
And the green revolution on the Balkan peninsula does not stop here. On the 7th of October, renewable energy sources were able to cover the electricity needs for five hours, proving that energy independence is possible.
The refrigerated cabinet for efficient and eco-friendly supermarkets
In this vein, AB Vasilopoulos chose Epta's innovative ranges to furnish the new store in the capital, whose aim is to be eco-friendly and achieve the lowest environmental impact.
For this, Freddo proposed sustainable technologies equipped with high-efficiency fans and heat recovery systems to heat the store's water, along with transcritical systems.
A combination that, together with LED lighting, ensures significant annual savings in terms of electricity consumption of the cabinets.
There are several advantages to this collaboration.
In addition to the possibility of customising the offer and monitoring the functioning of the furniture remotely, Epta and its distributor are a guarantee of quality assistance service both during and after sales, 365 days a year.
Refrigerated cabinets and display refrigerators by Costan
The Group thus conquers the heart of Greece with its Costan brand and, specifically, with:
GranBering, the vertical frozen food cabinets that combine attractive design with excellent product display;
Tortuga which, thanks to modern sliding covers, facilitates merchandising accessibility;
Lion and Gazelle 4 DG, the vertical cabinets for fresh food, top ranking energy labels and a byword for maximum product visibility.
As for serve-over counters, Costan proposes:
Velvet, the traditional display refrigerator designed to display fresh cheeses and preserve their organoleptic characteristics;
Stage SV, the plug-in available in numerous configurations and capable of enhancing products;
Boutique, the back counter whose modern and essential aesthetics complete the area dedicated to gastronomy.
With Epta, innovation is climate-neutral and high-performance, with the aim of preserving the environment and ensuring maximum energy efficiency. In short, only advantages for the future of the new generations.