EPTA & BOUBAS MEATS OF EPIRUS: A TRIBUTE TO MEAT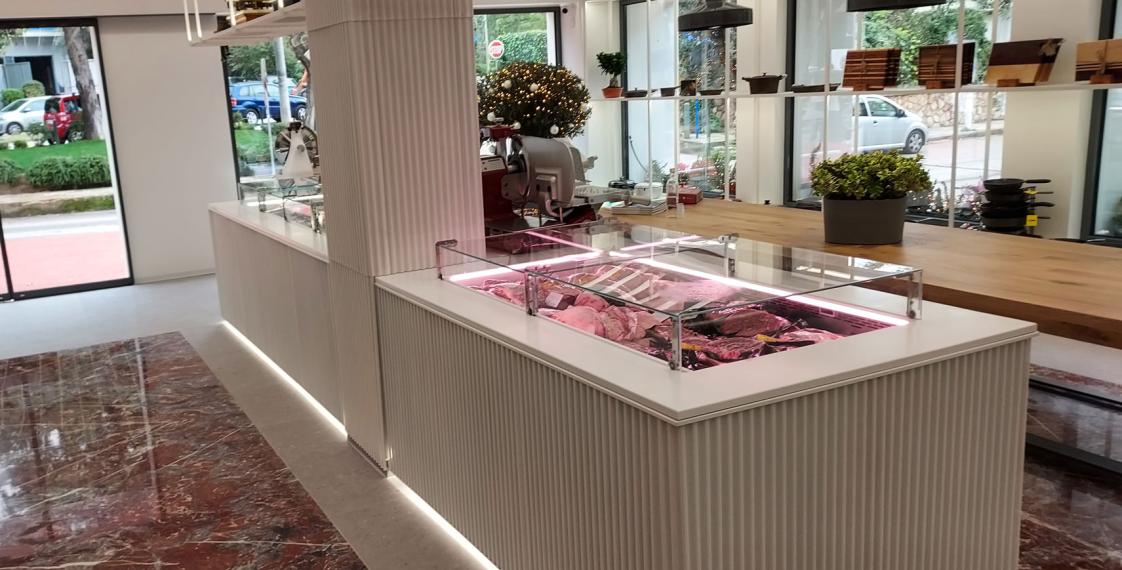 Boubas Meats of Epirus entrusts itself to the proven expertise of Epta and its Eurocryor brand to merge storage techniques and exclusive design. A partnership which gives life to a veritable meat boutique, inaugurated in the town of Kifisià, to the north of Athens, among the favourite holiday destinations of the citizens of the Greek capital.
The journey of the Boubas family
The journey of the Boubas family starts in 1925, in Pogoni, a small village on the outskirts of Epirus, with a simple dairy farm and approx. 3,500 sheep and goats. A path of growth and dedication pursued with the opening of the first butcher shop, a goal reached twenty years ago.
A tradition transmitted from father to son, with the third generation now passionately serving meat lovers, according to the two founding pillars: quality and respect for the customer, to offer authentic taste every day.
Allies in meat excellence
Boubas Meats of Epirus and Epta are allies in the presentation of meat excellence, a unique space, influenced by past and present. The elegance of the red marble combines with the white of the furnishings branded Eurocryor, such as Bistrot Meat, to give dynamic quality to the display of hamburgers, steaks, and skewers. Its transparencies, as well as enhancing at best a selection of 0 mileage meat from open-air farms, recall the large bright windows of the butcher shop.
Products which amaze, prepared by an expert team directly under the eyes of consumers. Cured meats, cold cuts and prized cuts are enhanced by Unico, the self-service island characterised by a display shelf to regulate according to the products on show. Thanks to the extra clear glass sliders, the cabinet correctly maintains the appearance, colour, and aroma of the foods, ensuring superior energy saving.
.
Refrigerated cabinets with a high standard of quality, in terms of storage and aesthetics, which reflect the search for the genuine quality of Boubas Meats of Epirus. A connoisseur of meat, certified by awards such as Authentic Taste of Greece, the Gold Award of Quality Taste, and the Delivery Golden Awards.​