Epta wins the Best Managed Company Award 2022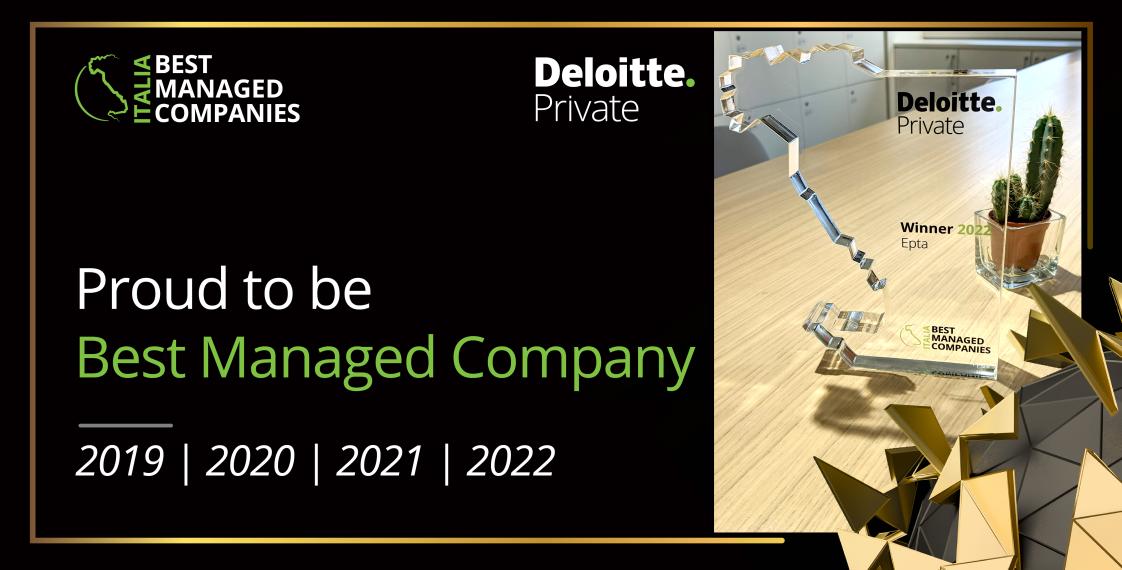 For the fourth year running, Epta is the winner of the Best Managed Company Award.
The award, assigned as part of the programme promoted by Deloitte, is aimed at rewarding companies capable of adequately enhancing both their external and internal environment, thus establishing themselves as true examples of entrepreneurial success.
Specifically, the selection of the finalists is carried out through a scrupulous process that examines 6 methodological pillars.
Epta was able to distinguish itself in each of these pillars. Sustainable and successful companies: the requirements for a Best Managed Company
1 - Strategy
To be a one-stop-shop, a unique supplier for its clients, while offering a system that integrates reliable and certified refrigeration products and services and offers solutions that are customised based on different display needs and sustainable both in environmental and economic terms.
2 – Skills and Innovation
Epta's strategy is successful because it is pursued by constantly investing in its people, through training and refresher courses, as well as in development and innovation.
3 – Commitment and Corporate Culture
Managing its talents towards common goals for the Company means promoting fundamental values such as Humility, Order, Delegation and Resilience. Not only that, it also means ensuring all EptaPeople have the opportunity to act following a shared Leadership Model, which guides and inspires their everyday work.
4 - Governance and Performance Measurement
In addition to using key indicators to monitor critical success and business risk factors, Epta has a Corporate Governance System, which aims to ensure structured and transparent decision-making processes.
5 - Sustainability
Sustainability lies at the heart of Epta and is embodied in its first Integrated Financial Report, which combines financial and environmental results. This document was published in its first edition in 2021, after 10 years of Corporate Social Responsibility Reports, and is a milestone in terms of transparency and communication. It is a testament to the Group's commitment, whose focus is in line with the Sustainable Development Goals proposed by the UN and aimed at enhancing the value of human resources and sustainable growth.
6 - Globalisation
Today, the Group is characterised by a global presence ensured by six brands, 40 technical and commercial plants, a workforce of almost 6,000 employees and 11 production units located in no fewer than eight countries. And its dimensions are destined to grow, as demonstrated by its 8 acquisitions completed in 2019. Among these, it is worth mentioning the acquisition of Kysor Warren, which marked Epta's entry in the North American market.
Epta is all of this. Marco Nocivelli, Chairman and CEO of the Group, says: "We are proud to once again be acknowledged with the Best Managed Company Award. And this year, in particular, our satisfaction is even greater. This award proves how engaging all our people to create unique services and products based on solid shared values is a winning strategy and how our commitment is translating into more and more relevant achievements in the name of sustainable innovation."